I only went to buy elastic, thread and needles, all to complete cut-out projects. I found huge savings - Cotton lycras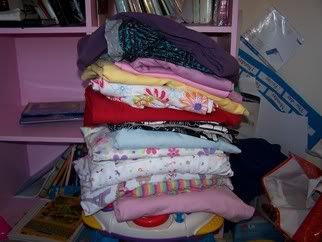 $14 down to $5, rayon lycras at 5, drills were 2. Basically a lot of stuff between $2-5.
I loaded a trolley full. We waited an hour to be served. The lovely lady behind the counter stated that all the fabrics on sale were a further 50% off. So many lovelies for $2.50. I nearly had a heart attack. I think I bought over 30 meters but it was at a sensational discoutnand I LOVE it all.
And Jalisa is developing my love of fabric...she was rolling in it for goodness sakes.