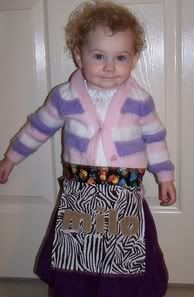 Yesterday I was challenging myself to do some sewing using scraps. I was making this awesome skirt (cord and leftover stretch poplin) but I had to much fabric to gather and being so thick (double fold casing) I couldn't get the elastic through that last inch. Then the nappy pin broke. Still I had used a new pleating technique for me in the hem band.
So I moved on to some hand embroidery...incorporating the Crafty mama's theme challenge for this month.
Then onto applique. I decided it looked like it should be an apron. I love applique and have decided doing words is fun...so look out for some other garments with words.