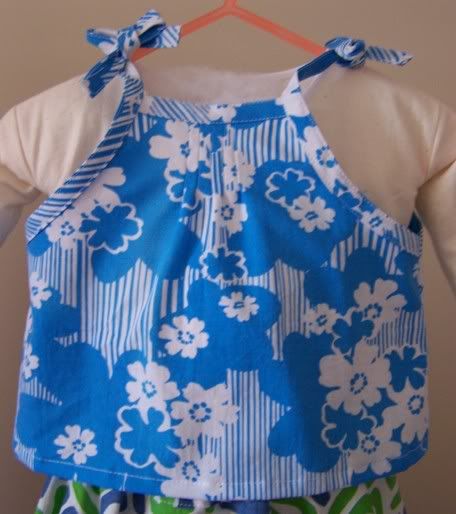 I had some a child and work free day (thank you Ekka show holiday) so I did some cleaning and sewing. It is hard to see in the picture, but the top has little tucks at the top. I am thinking of adding a few buttons near the top. It was going to be a dress, but after running out of shirring elastic (just in the bobbin) I decided a top was good enough. It may need a bottom made at some stage, maybe some white shorts.
This is my first attempt at a hankerchief hemline, adapted from a yoked circle skirt. This will have a matching white singlet and applique to make it a set...maybe a headscarf too.
I need to trace a larger singlet size. I have the idea to applique them, to make them unique, but I may leave them plain too, as they will go with all of the overalls from last summer (I made them a size 2 and then moved the buttons...with Jalisa's cloth nappied bum they are by no means baggy)
Well, it is fun and cheaper sewing with vintage fabrics. But with the age, they are a lot more fragile than I thought they would be.